Portable Stimulus Tutorial Now Available
Our three-part webinar series on Portable Stimulus is now available on demand. Derived from the Accellera Portable Stimulus Tutorial presented at DVCon U.S. in February 2017, the "Creating Portable Stimulus Models with the Upcoming Accellera Standard" tutorial provides an in-depth look at the upcoming Accellera Portable Test and Stimulus standard that will permit the creation of a reusable model for a variety of users across different levels of integration under different configurations. The tutorial is divided into three parts:
Part 1 begins with a discussion of verification productivity, the reasons the Portable Stimulus Standard was undertaken and the goals of the standardization effort. It also provides a detailed technical overview of many of the concepts and language constructs being used to enable portable scenario-level specification of stimulus and verification intent.
Part 2 builds on the previous discussion in Part 1 of concepts and constructs, showing how block-level stimulus and verification intent models can be reused and augmented to describe system-level scenarios. It also discusses how a Portable Stimulus model may be used to generate a test implementation on multiple platforms.
Part 3 discusses how to model coverage in PSS and how a hardware/software interface layer could be used to improve portability of stimulus models.
SystemC 2.3.2 Public Review Now Open

The Accellera SystemC Language Working Group has released the proposed SystemC 2.3.2 for testing and feedback from the community.
This is a maintenance release with some new features including a foundation for C++11/14 enablement, a centralized global name registry enabling CCI naming requirements, new TLM socket and sc_signal base classes, and updated compiler and platform support including Windows DLL support and an experimental CMake build system. There are also many bug-fixes and general clean-up.
Licensed under Apache 2.0, the release package contains the SystemC class library and the regression test suite. It can be downloaded here.
The review period is open until May 31, 2017. Feedback is welcome and can be submitted either by email to This email address is being protected from spambots. You need JavaScript enabled to view it. or via the SystemC Community Forum.
Featured Events
DAC
June 18-22
Austin, Texas
dac.com
Find out more about Accellera events >
DVCon India

September 14-15
The Leela Palace
Bangalore, India
dvcon-india.org
DVCon Europe

October 16-17
Holiday Inn Munich City Centre
Munich, Germany
dvcon-europe.org
SystemC Evolution Day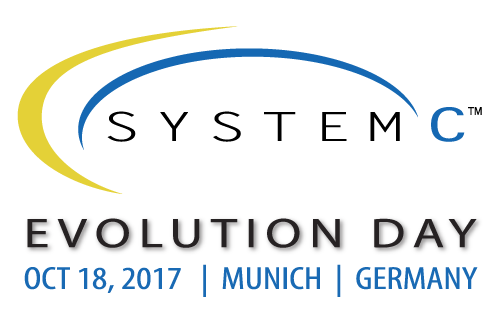 October 18
Munich, Germany
Subscribe to our mailing list: