New UVM Technical Tutorial Available

On April 11, 2017, the IEEE Standards Association (IEEE-SA) approved the IEEE 1800.2™ Standard for Universal Verification Methodology (UVM). For the tens of thousands of UVM verification engineers, this milestone connects teams to a standard recognized worldwide. The new IEEE-Compatible UVM Reference Implementation and Verification Components technical tutorial introduces you to the new reference implementation aligned with IEEE 1800.2 and created by the Accellera UVM Working Group. The speakers use the new reference implementation to describe the new features and changes relative to UVM 1.2. Viewers will learn the steps they need to take to update their verification components to be IEEE-compatible. Code examples will help viewers gain the practical knowledge they need to adopt the IEEE 1800.2™ Standard for UVM. View tutorial >
Accellera Approves New Portable Test and Stimulus Standard
The Accellera Board of Directors has approved Portable Test and Stimulus 1.0 as an Accellera standard. The Portable Test and Stimulus Standard (PSS) defines a specification to create a single representation of stimulus and test scenarios usable by a variety of users across many levels of integration under different configurations. This representation facilitates the generation of diverse implementations of a scenario that run on a variety of execution platforms, including, but not necessarily limited to, simulation, emulation, FPGA prototyping, and post-silicon. With this standard, users can specify a set of behaviors once and observe consistent behavior across multiple implementations. The new standard is available immediately to download for free.
Release notes stating the differences between the Early Adopter II Release to the 1.0 standard are available. For more information, a press release and supporting industry quotes are also available. Accellera's Portable Stimulus Community is also a resource for the latest information available on the new standard.
Portable Stimulus Tutorial Available
Dive in to the new powerful productivity-increasing standard with the "Portable Test and Stimulus: The Next Level of Verification Productivity is Here" tutorial.
Congratulations Martin Barnasconi, Recipient of the 2018 Accellera Leadership Award
Martin Barnasconi is the recipient of the seventh annual Accellera Leadership Award. The award recognizes the vision, leadership and contribution to standards development, governance and promotional activities of an Accellera member on behalf of the organization. The award was presented to Martin at the 55th Design Automation Conference (DAC) during the Accellera Breakfast and Technical Panel. Find out more >
Featured Events
SystemC Evolution Day
Workshop on the evolution of SystemC standards
October 23, 2018
Munich, Germany
Registration open >
View event details >
DVCon Europe

October 24-25, 2018
Holiday Inn Munich City Centre
Munich, Germany
dvcon-europe.org
Accellera Day India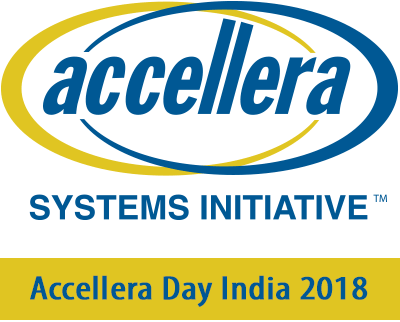 November 14, 2018
Radisson Blu Bengaluru
Bangalore, India
Subscribe to our mailing list: