Welcome Lu Dai, new Accellera Chair!
Lu Dai has been elected as Chair of the Board of Accellera. He's been a member of our Board of Directors for two years and is currently senior director, engineering at Qualcomm Technologies, Inc. where he leads the SoC front-end design and verification initiatives for the company.
As Chair of the Board of Accellera, Mr. Dai sees that the Board is advised on all significant matters of the organization's business. The Chair represents Accellera between meetings of the Board within the boundaries established by the Board and as set forth in Accellera's Articles of Incorporation and Bylaws.
We look forward to his expertise and leadership to help guide us in our standardization efforts in the coming years. Read the press release.
Congratulations Tom Alsop, recipient of the 2017 Technical Excellence Award!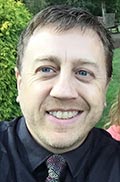 We'd like to thank Tom Alsop for his eight years of technical contributions and leadership as co-chair of the Universal Verification Methodology UVM Working Group. He has been a key contributor to the advancement of UVM and is very deserving of this award. As co-chair, he has inspired a group of dedicated working group members to work openly to develop the standards policies with well-established flows and processes that have helped make UVM one of the most widely applied standards in the EDA industry.
Under his leadership, UVM 1.2 was submitted as a contribution to the IEEE P1800.2™ working group for further standardization and maintenance, becoming an IEEE standard in 2017. UVM improves design productivity by making it easier to verify design components with a standardized representation that can be used with various verification tools, helping to lower verification costs and improve design quality. Read the press release.
SystemC 2.3.2 Public Review Now Open

The Accellera SystemC Language Working Group has released the proposed SystemC 2.3.2 for testing and feedback from the community.
This is a maintenance release with some new features including a foundation for C++11/14 enablement, a centralized global name registry enabling CCI naming requirements, new TLM socket and sc_signal base classes, and updated compiler and platform support including Windows DLL support and an experimental CMake build system. There are also many bug-fixes and general clean-up.
Licensed under Apache 2.0, the release package contains the SystemC class library and the regression test suite. It can be downloaded here.
The review period is open until May 31, 2017. Feedback is welcome and can be submitted either by email to This email address is being protected from spambots. You need JavaScript enabled to view it. or via the SystemC Community Forum.
Featured Events
DVCon China
Accellera Taiwan Forum for System Level Verification & Design
Event Dates Announced
Subscribe to our mailing list: