Portable Stimulus Standard Early Adopter II Public Review
The Accellera Portable Stimulus Working Group (PSWG) is proud to announce the release for Public Review of the latest preliminary version of the Portable Test and Stimulus Standard. This Early Adopter II release includes additional work done by the PSWG since the release in June 2017 of the first Early Adopter version, reflecting progress on a wide range of issues to improve the standard, including user feedback on the EA version. The PSWG continues to work to ensure a robust, feature-rich release which will enable users and vendors to benefit from the powerful productivity-increasing technology with the confidence that comes from using an approved Accellera Standard.
The Public Review Period will be open until Friday, March 30, 2018. Please provide your feedback via the Accellera Portable Stimulus Forum. All comments will be reviewed by the PSWG.
Download the Portable Stimulus Early Adopter II release >
View the tutorial from DVCon U.S. 2018: "Portable Test and Stimulus: The Next Level of Verification Productivity is Here" >
Congratulations Richard Weber, Recipient of the 2018 Technical Excellence Award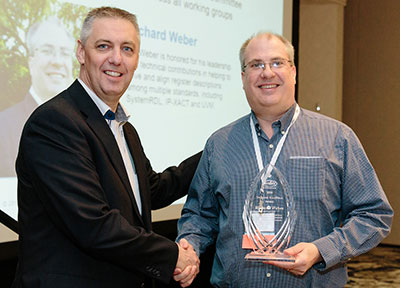 Richard Weber is the recipient of the seventh annual Accellera Technical Excellence Award. He was presented the award at DVCon U.S. on Monday, February 26th during the Accellera Day luncheon.
Mr. Weber has been a member of Accellera for more than 10 years and has participated in multiple working groups. He was recognized for his technical contributions in helping to drive register descriptions among multiple working groups including SystemRDL, IP-XACT and UVM.
New Proposed Working Group to Study IP Security 
The Accellera Board of Directors recently approved the formation of a Proposed Working Group to define an IP Security Assurance Specification. A kick-off meeting will be held on April 17, 2018 in Santa Clara, CA. The meeting is open to all interested parties; registration is required. Details and the meeting registration link can be found here >
Featured Events
DVCon China

April 18, 2018
DoubleTree by Hilton Shanghai-Pudong
Shanghai, China
dvcon-china.org
DVCon Europe

October 24-25, 2018
Holiday Inn Munich City Centre
Munich, Germany
dvcon-europe.org
Call for papers | Initial submissions due April 11
Call for tutorials | Abstracts due April 18
Call for panels | Proposals due April 18
Subscribe to our mailing list: