SystemC Evolution Day 2017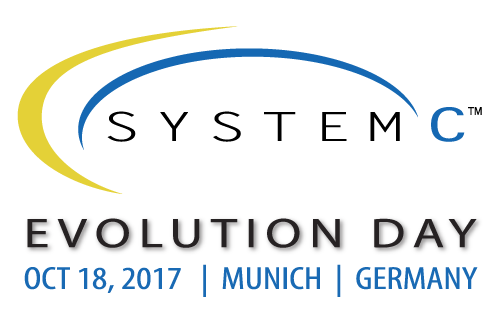 Workshop on the evolution of SystemC standards
Wednesday, October 18, 2017
Munich, Germany
Summary
SystemC Evolution Day is a full-day technical workshop on the evolution of SystemC standards to advance the SystemC ecosystem. This is the second event after a successful first edition in May 2016. In several in-depth sessions, current and future standardization topics around SystemC will be discussed in order to accelerate their progress for Accellera and IEEE standard's inclusion.
SystemC Evolution Day is intended as a lean, user-centric, hands-on forum bringing together the experts from the SystemC user community and the Accellera Working Groups to advance SystemC standards in a full-day workshop.
Date / Time: October 18, 2017 (day after DVCon Europe 2017) | 10:00am - 6:00pm
Location: Technical University of Munich, City Campus | Arcisstraße 21, 80333 Munich, Germany
Registration: Required, but free of charge. Register here >
Submissions / Questions: Email This email address is being protected from spambots. You need JavaScript enabled to view it.
Organization Team: Philipp A Hartmann, Intel; Oliver Bell, Intel; Martin Barnasconi, NXP; Matthias Bauer, Infineon; Thomas Kruse, Infineon
Call for Contributions
In the morning, a series of lightning talks are planned, covering concrete, but smaller standardization proposals as well as introducing new standardization needs around SystemC. For each of these short presentations, time for an interactive discussion will be included to gather feedback and support and for identifying the next steps towards standardization.
In the afternoon, in-depth topic sessions are planned again, enabling a 90-minute detailed and interactive technical discussion on the most significant ongoing and future topics around SystemC standardization.
If you are interested in championing a topic for an afternoon session or presenting your favorite extension to the SystemC community as part of a lightning talk, please send a title and abstract with up-to 100-words (lightning talks) or 400 words (topic session) by end of June to This email address is being protected from spambots. You need JavaScript enabled to view it.. You will receive a notification of acceptance by September at the latest.
Important dates:
June 30, 2017 – Proposal abstract submission deadline
September 1, 2017 – Notification of acceptance
September 15, 2017 – Announcement of the program