Accellera Technical Excellence Award
Congratulations Erwin de Kock, Recipient of the 2016 Technical Excellence Award
Erwin de Kock, a member of the IP-XACT Working Group and vice chair of the IEEE P1685 Working Group, is the recipient of the fifth annual Accellera Technical Excellence Award.  Mr. de Kock will be presented the award at DVCon U.S. on Monday, February 29th during the Accellera Day luncheon from 12:00-1:30pm at the DoubleTree Hotel in San Jose, California.  He will be recognized for his vision and continuous efforts toward the advancement of the IP-XACT standard. IP-XACT is a standardized XML schema that defines and describes electronic components and their designs, complemented with a generator interface for design automation.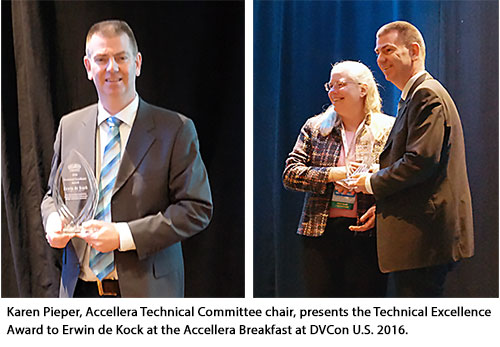 About the Technical Excellence Award
Accellera Systems Initiative wishes to recognize the outstanding achievements of its working group members by selecting outstanding contributors to our standards development process as recipients of the Accellera Systems Initiative Technical Excellence Award.
This annual award recognizes major contributions to the development of Accellera standards. Examples of such contributions may include leadership in standardization of new technologies, assuring achievement of standards development goals, and identifying opportunities to better serve the needs of the community through standards.
The recipient of the Technical Excellence Award is recognized at the Accellera breakfast at DVCon U.S.
Eligibility
Any member of an Accellera Working Group is eligible for the award.
Candidates can be nominated by Working Group chairs and are endorsed and selected by participants of the Accellera Technical Excellence Award Committee, which is a subcommittee of the Technical Committee.
Nominations must include the following information:
The candidate's name, email address, and affiliation
Brief description of the specific achievements that justify the award (supporting documents are optional)
Why those achievements are important to the industry
Your name, email address, and affiliation
For more information about our awards programs, contact us.
Past Recipients